Safety and OSHA
Quality - Service - Safety
Valley Wide Construction Services has been awarded the Golden Gate Partnership Service Award for 2015 by OSHA in the State of California.


One of our main goals is to eliminate workplace accidents and injuries with thorough employee safety training in compliance with OSHA and MSHA standards. Our training addresses general and job-specific hazards. Healthy employees avoiding injuries promotes job satisfaction, saves times and money, but most importantly it also helps to protect on-site employees of our customers.

What we teach and strive for:

Accidents and Workplace Injuries can be Prevented
No Job is more Important than the Safety of our Employees
Every Employee has Responsibility for Safety

We urge our customers to report anything that causes them to feel like we have failed or are could improve on any of these goals.


Valley Wide Construction can extend services throughout California.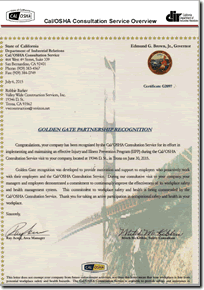 OSHA Certificate for Safety - 2015